Sparkle & Shine this Holiday Season.
explore our favorite picks for the holiday.

Shop New & Most Loved
Glitz, Glamour & Shine.
It's the time of Year for Glitz, Glamour & Everything Shimmer. Dazzle your Guests Whether it's a friend's birthday dinner, a holiday party, or a night on the town. Crafted with head-turning details that offers endless versatility. Shop Our Holiday Must Haves.
SHOP OUR PICKS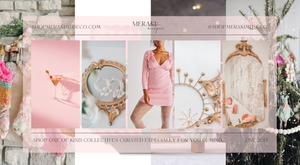 MUST HAVE.
Coco's Essential.
Make that Holiday transition easy on you & your closet, make room for our favorite brand free people, shop all things pretty this season.
BUY IT NOW!
OUR MERAKI
Muse Pick:
Stay Warm this Season, Shop our customers favorite piece to stay warm and cozy.
Shop

Melting Over Disco 6" Ball